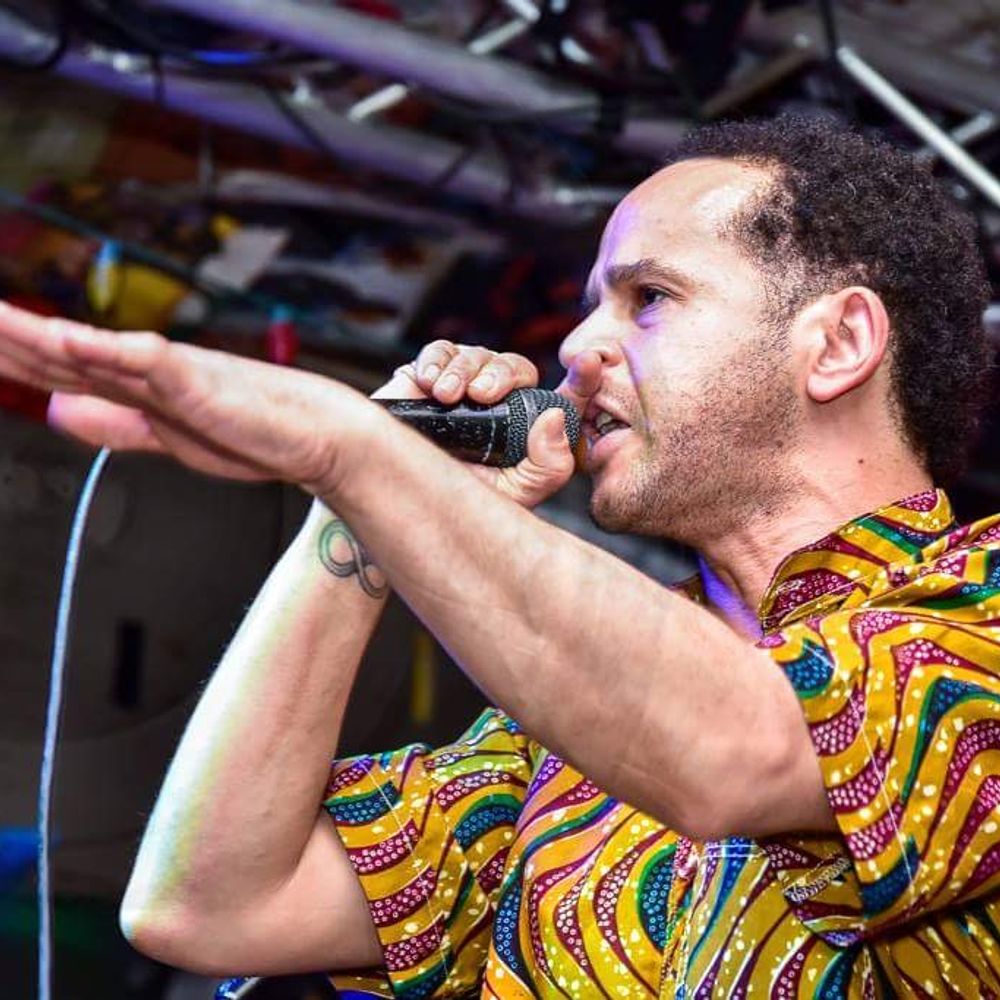 Who Is Isaac Sawyer?
Emcee | Producer | Teaching Artist | Beatboxer | Painter
Las Vegas-born Bronx, NY-based, Isaac has been dedicated to building community through HipHop music, visual art, and creativity for over 25 years.
Isaac has self-released albums and singles, toured Nevada, Arizona and Utah in 2016, and has opened and been a featured performer for numerous mainstream and underground hip-hop artists. He has recently performed at The Brooklyn Academy of Music for the BAMKids series and is the Director of The Sony Music Maker program through Arts Connection.
Isaac is also a teaching artist on the roster for DreamYard, Arts Connection and HipHop Re-education, sharing his expertise and educating the youth of New York in music production, HipHop history classes, and beat making workshops.
He is the creator of the series #whydoyouart? and has interviewed over 100 creatives since 2019.
He also is a member of the Anomaly Konglomerate, a collective of producers, DJs, and emcees. 
In addition to performing and creating music, most recently Isaac has been live beat-making at various NYC venues, bringing a fresh energy. Live Lounge Bx gives you a taste of this process.  
Isaac is available for bookings as a performer, teaching artist, host, or to bring unique vibes at your event through live beat-making.
"

One of the best live performers I've ever seen." - Homeboy Sandman
DISCOGRAPHY
Self-released:  
"Magnet"  - under the name KandI with Kita P featuring Goodwin, 2019 
Twelve Rooms, 2015   
Beat Up, 2015    
Q and A, 2009 
An Introduction, 2005   
Group: 
Demolition Men – self titled, 2013   
Featured Artist: 
"The Walk Away" - Late For Dinner, Nine to Five, 2017   
"Wave" - Phil A, The Grand Opening, 2012   
"Bars 101" - Phil A and Hassan, Rap Songs, 2011   
"They Say They Love Me" - Skip Martin, Skip Hop, 2009   
"Grown Folks Hip Hop" - Lady L.U.S.T., The Ms. Ceily Complex, 2009   
"Hey You" - The Chapter Crew, The Prewreck, 2007 
VENUES AND STAGES
SELECT PERFORMANCE VENUES & ORGANIZATIONS
House of Blues (Mandalay Bay Casino Resort) – Las Vegas, Nevada
The Lounge (The Palms Casino Resort) – Las Vegas, Nevada
The Airliner – Los Angeles, California 
Urban Lounge – Salt Lake City, Utah 
Palo Verde Lounge – Tempe, Arizona 
National Sawdust – Brooklyn, New York 
The Greene Space – New York, New York 
Nuyorican Poets Café – New York, New York 
Knitting Factory – Brooklyn, New York 
The Shrine – New York, New York 
The Hollow Bar – Albany, New York 
The Stanhope House – Stanhope, New Jersey
Brooklyn Academy of Music - Brooklyn, New York
SUPPORTING ARTIST
K.R.S. O.N.E.   
Ice Cube   
Wu-Tang Clan   
Living Legends   
Phat Lip (of the Tha Pharcyde)   
Homeboy Sandman   
Chino XL   
Skip Martin